Imagine that Google, when a client searches for information about you, will give negative feedback about it on the first search positions.
How will this affect your reputation and sales?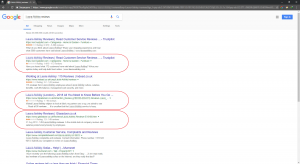 Will you contact a company with such a reputation, or will you choose another one?
The causes of such problems can be:
Insufficient attention to your own site and other resources
Lack of dialogue with customers
Wrong communication, rudeness of employees in the network
Fake reviews from competitors or unfriendly forces
Internet trolls
According to statistics, users more often lefts negative reviews than positive ones.
While remaining unanswered, the negative outweighs the positive and goes to the top of the search.
Maintaining a positive requires constant work:
Posting of articles and reviews from public persons
Communication with customers
Identifying and exposing information about fake reviews from competitors
Reputation management allows to significantly improve the search output, displace negative from the first positions, make more positive in the company's media space.